The Ghanta Ghar, also known as the Clock Tower, in Jodhpur is a magnificent historical monument that has become an iconic symbol of the city. Standing tall in the bustling heart of Jodhpur, this amazing structure attracts tourists from all over the world. With its rich history, intricate architecture, and vibrant surroundings, the Ghanta Ghar is truly a sight to behold.
Historical Significance:
The Clock Tower was built by Maharaja Sardar Singh of Jodhpur in the late 19th century. Its construction was part of the Maharaja's efforts to uplift the local economy and provide employment opportunities during a time of drought. The tower was strategically constructed at the busiest market area of Jodhpur, serving as a central hub for trade and commerce.
Architecture and Design:
The Ghanta Ghar is a splendid example of Rajputana architecture, blending traditional Indian and Islamic styles. The tower stands at a height of 60 feet and boasts a red sandstone exterior, adorned with intricate carvings and detailed craftsmanship. At the top of the tower, a large clock with Roman numerals adds to its grandeur, providing both locals and visitors with accurate timekeeping.
Surroundings:
The Clock Tower is surrounded by vibrant markets, making it a shopper's paradise. The bustling lanes around the tower are filled with shops selling textiles, handicrafts, traditional jewelry, spices, and much more. The colorful atmosphere, the aroma of local delicacies, and the lively chatter of vendors and shoppers create an enchanting experience.
Local Culture and Festivals:
The Ghanta Ghar is not only a historical landmark but also deeply ingrained in the local culture. During festivals like Diwali and Navratri, the tower is adorned with beautiful lights, giving it a mesmerizing appearance. The nearby Sardar Market comes alive during these festivities, with locals and tourists flocking to buy traditional clothes, sweets, and other festive items.
Tourist Attractions:
Apart from its architectural splendor, the Clock Tower offers a vantage point to witness the breathtaking views of the blue city of Jodhpur. Visitors can climb up the tower and enjoy panoramic views of the Mehrangarh Fort, Umaid Bhawan Palace, and the bustling cityscape. The tower also serves as a meeting point for guided heritage walks and city tours, allowing visitors to explore the rich history and culture of Jodhpur.
Conclusion:
The Ghanta Ghar, or the Clock Tower, in Jodhpur is a remarkable architectural marvel that stands as a testament to the city's rich history and vibrant culture. With its stunning design, historical significance, and bustling surroundings, the Clock Tower has rightfully earned its place as one of the most popular attractions in Jodhpur. A visit to this amazing landmark is sure to leave visitors in awe of its grandeur and charm.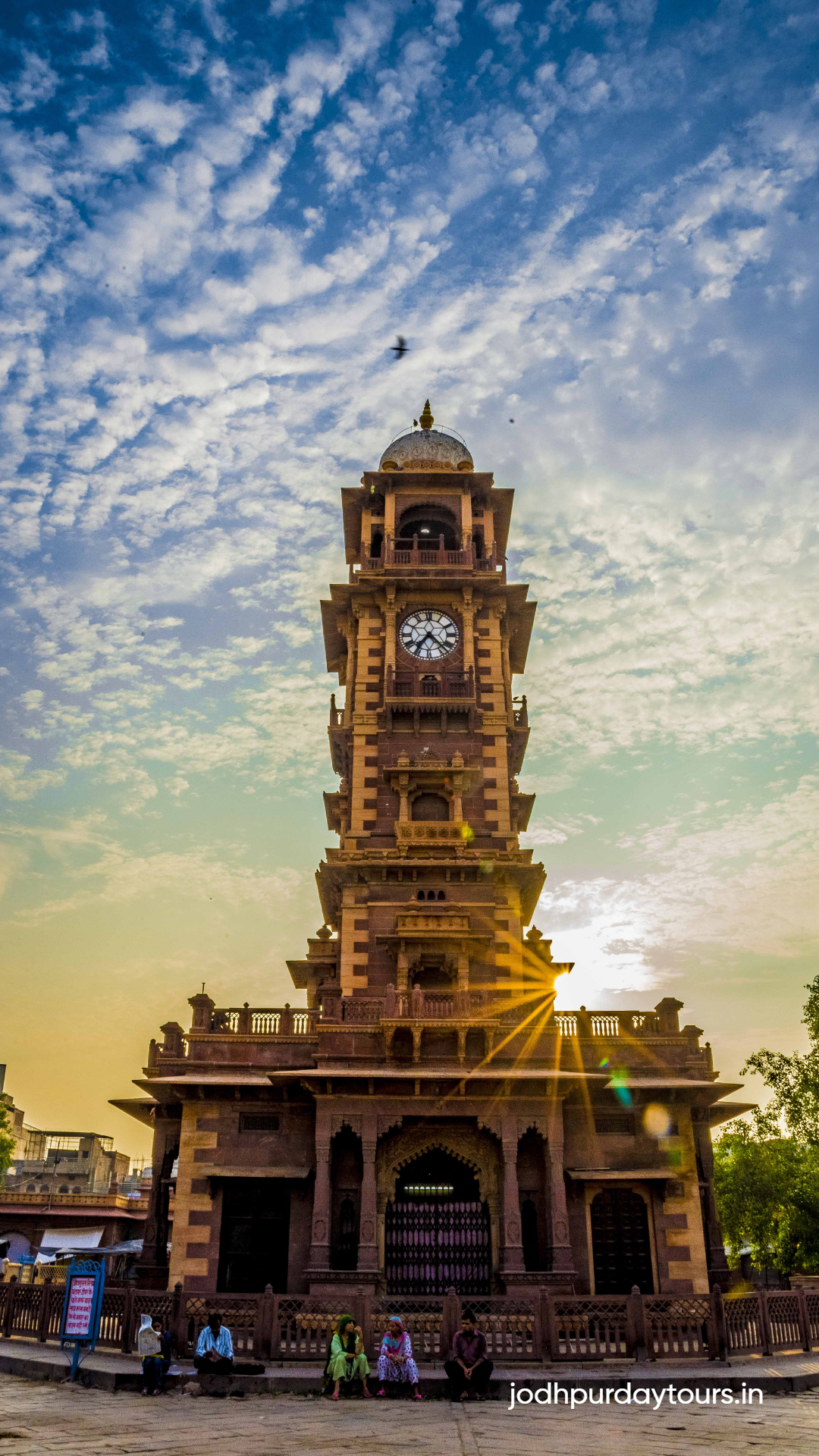 Best Time To Visit Ghanta Ghar Jodhpur
Greetings! I hope this message finds you well. I wanted to take a moment to share with you an absolute must-visit destination – the magnificent Ghanta Ghar, also known as the clock tower of Jodhpur. It's a sight to behold and rich in history, offering a fantastic experience for visitors. I'd be remiss if I didn't share with you a little insider tip for a perfect visit. Timing is everything! The beautiful winter months spanning from November to February provide the best opportunity to go, offering mild and pleasant weather ranging from 10 to 25 degrees Celsius. This ensures that you can make the most of your time without the sweltering heat sapping your energy. Furthermore, these months are full of vibrant cultural events and festivals to relish, such as the Jodhpur International Kite Festival in January, which is an absolute blast! However, I would advise against a visit during summer, where the temperature can soar to a soaring 45 degrees Celsius. So, come prepared with your favorite cozy clothes and get set to revel in the glory of Ghanta Ghar!

Ghanta Ghar Jodhpur Timming & Entry Fees
Entry Fees: No Entry Fees
Sunday 10 am–9 pm
Monday 10 am–9 pm
Tuesday 10 am–9 pm
Wednesday 10 am–9pm
Thursday 10 am–9 pm
Friday 10 am–9pm
Saturday 10 am–9 pm
Clock Tower Jodhpur Address: Nai Sarak, Ghantaghar Market, Jodhpur, Rajasthan, 342001, India

12 Unique & Thrilling Activities At Jodhpur 
Located in the vibrant and historical state of Rajasthan, Jodhpur is a destination that is known for its magnificent forts, palaces, and temples. But did you know that there's much more to this intriguing town than what meets the eye? Whether you are a first-time tourist or a seasoned traveler, indulge in these 12 unique and thrilling activities during your Jodhpur travel itinerary.
Start off your adventure by visiting the picturesque Rao Jodha Desert Rock Park, where you can enjoy a scenic hike and marvel at the breathtaking views. Daredevils can experience the adrenaline rush of zip-lining at the Mehrangarh Fort, while foodies can explore traditional Rajasthani cuisine with a tantalizing food tour. Those who wish to soak up the vibrant culture and history of Jodhpur can visit the Clock Tower, the beautiful and bustling foundation of the old city.
Other noteworthy activities include exploring ancient temples in Osian, pottery-making with local artisans, witnessing the traditional art of Bandhani tie-dye, exploring the colourful markets and bazaars of Jodhpur, attending a Rajasthani folk music and dance performance, taking a thrilling camel safari in the Thar Desert, exploring the stunning Umaid Bhawan Palace and its gardens, and last but not least, witnessing a mesmerizing sunset from the Jaswant Thada mausoleum.
Jodhpur is a vibrant city that is overflowing with history and culture. Embrace these unique experiences that will create unforgettable memories of your visit to the blue city.